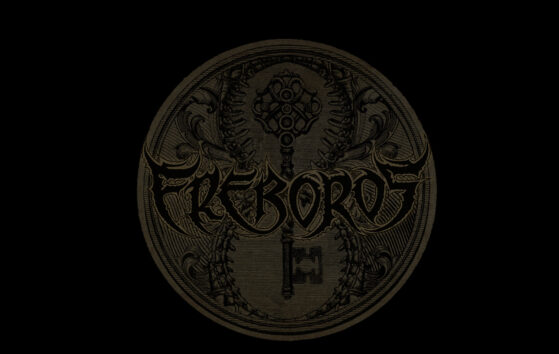 In Greek mythology, Erebos represents the deep darkness conceived as a primordial deity, the personification of darkness—one that was born of chaos. Ouroboros is an ancient symbol depicting a serpent eating its own tail, often interpreted as an emblem for eternal cyclic renewal, death, and rebirth.
From the union of an ancestral deity and a symbol of millenary knowledge, EREBOROS (Death Metal, Rio de Janeiro – RJ) rises, in May 2022, composed of expressive musicians from the extreme metal scene in Rio: Thiago Barbosa (Vox & Bass) ex-Forceps, Wederson Felix (Lead Guitar) ex-Tellus Terror, Alexandre Carreiro (Rhythm Guitar) Gutted Souls/Hicsos & Victor Mendonça (Drums) ex-LAC.
Collecting an arsenal of ten records and nine national and international tours (two South American, four European, one in Eastern Europe, and one in the United States), adding up to a total that exceeds 400 hows and tens of thousands of kilometers of road in more than 50 countries in their previous works, the experienced quartet arrives with a lot of baggage.
Hungry for obscure art, the musicians seek references in black metal bands that explore the atmospheric instrumental experience and in classic death metal bands—pioneers of aggressive guitar riffs and visceral vocals.
Their first self-titled EP (EREBOROS), was released in March 2023 in physical format as well as on all streaming platforms.
The songs' main subject is the questioning of the negationist "modus operandi" and the moralistic ties of today's society. Always seeking poetic depth and critical themes such as philosophy and occultism, the lyric of EREBOROS is used as a tool of enlightenment and freedom.
The songs were produced independently by the band members, recorded at Tellus Studio, Rio de Janeiro, between January and April 2022, and mixed and mastered by producer Caio Mendonça. The cover arts were made by Iuri Corvalan, a great artist located in the northeast of Brazil. The promotional and artistic photos were taken by Roberta Guido, a nationally and internationally renowned photographer also from Rio.
Currently, the musicians are focused on touring in their home country giving their best in this new endeavor.
The new path is not just a metaphysical question of death and rebirth in the eternal cycle of renewal of Hermetic philosophy. It is traveled through the surrender of flesh and soul.
RISE! EREBOROS!